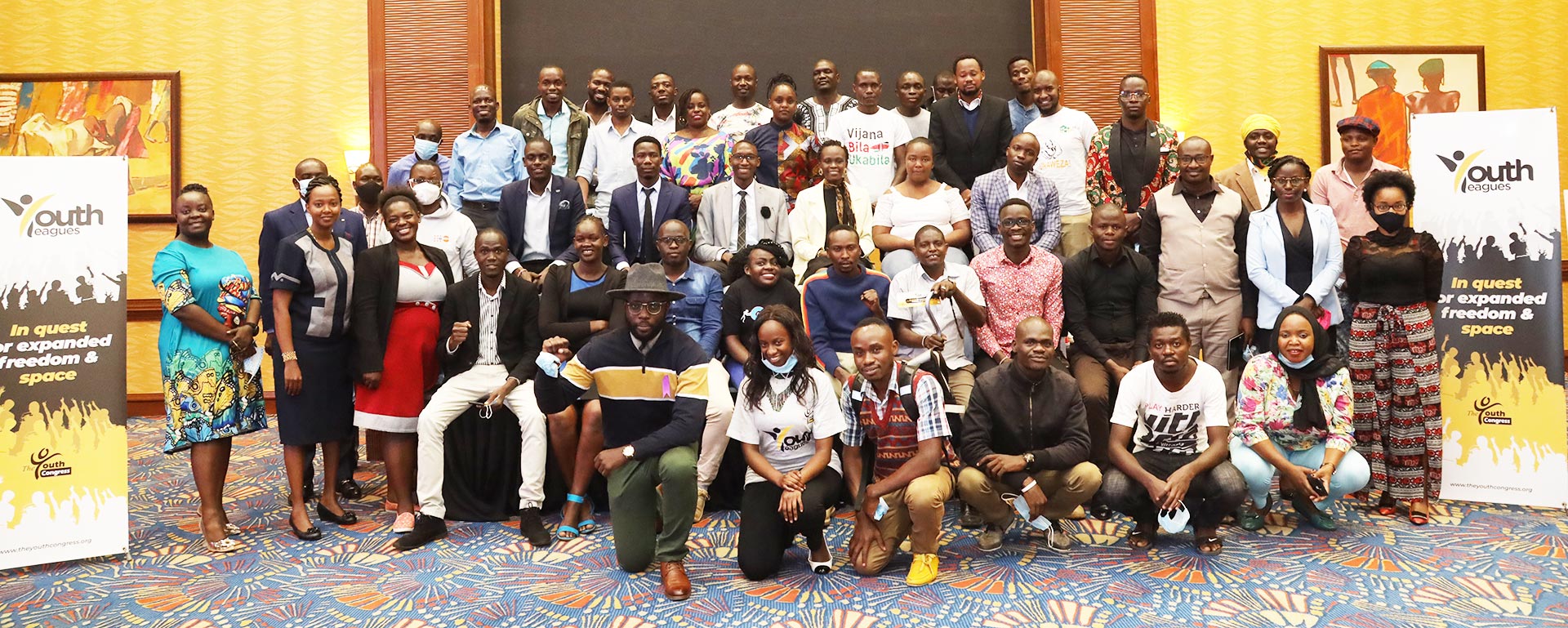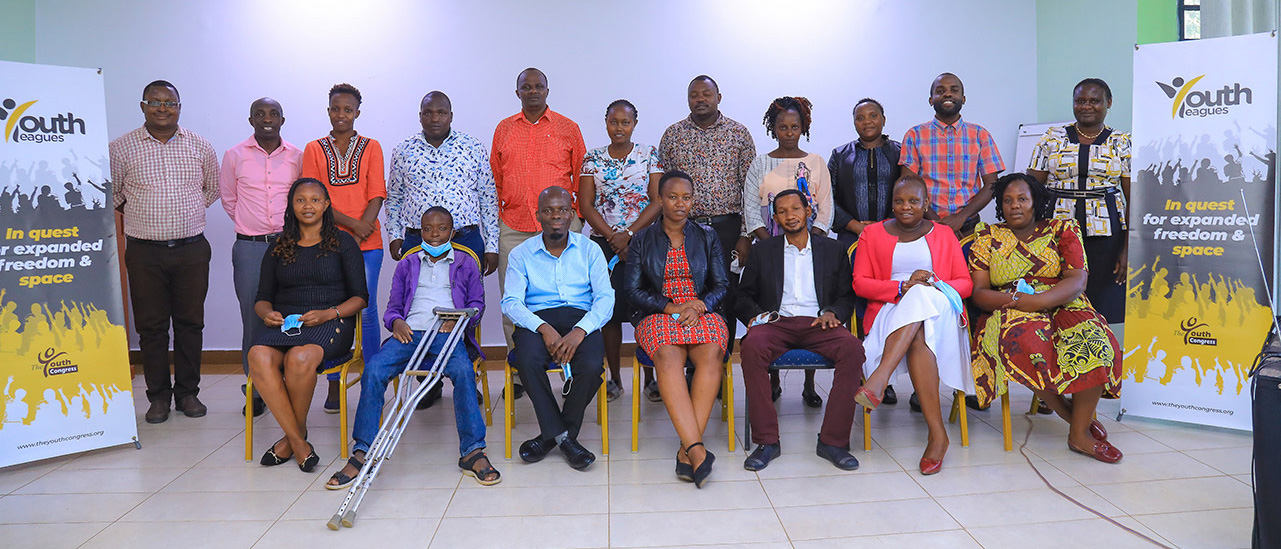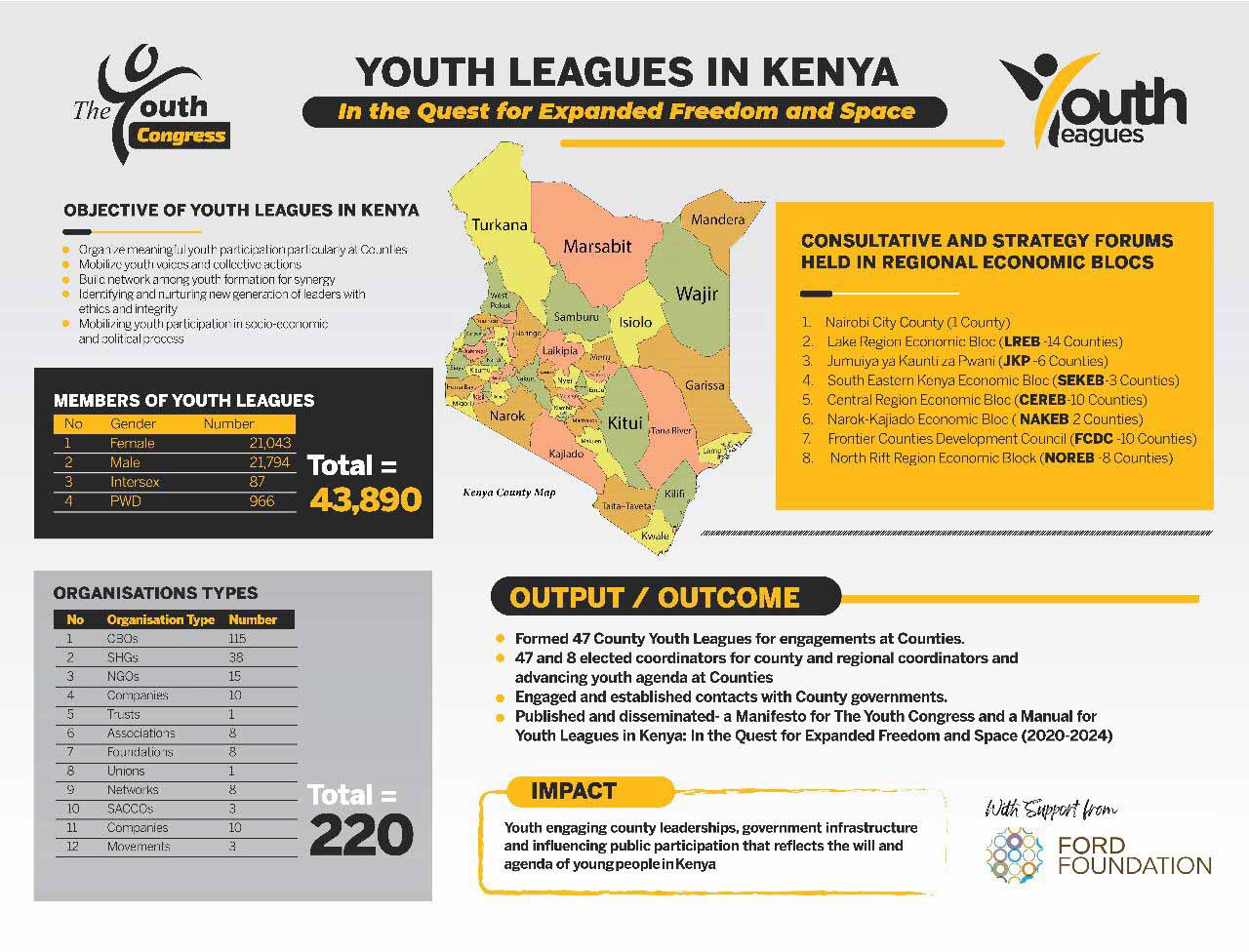 The Youth Congress with support from Ford Foundation has been engaging youth and organisations across the country. They have managed to establish a vibrant network with 220 organisations and about 43,890 youth – the largest in the country. The Youth Leagues are working on some of the most pressing issues facing their counties and the country.
Take a look.
The Youth Congress and Youth Leagues in
001 Mombasa
002 Kwale
003 Kilifi
004 Tana River
005 Lamu
006 Taita Taveta
007 Garissa
008 Wajir
009 Mandera
010 Marsabit
011 Isiolo
012 Meru
013 Tharaka Nithi
014 Embu
015 Kitui
016 Machakos
017 Makueni
018 Nyandarua
019 Nyeri
020 Kirinyaga
021 Murang'a
022 Kiambu
023 Turkana
024 West Pokot
025 Samburu
026 Trans Nzoia
027 Uasin Gishu
028 Elgeyo/Marakwet
029 Nandi
030 Baringo
031 Laikipia
032 Nakuru
033 Narok
034 Kajiado
035 Kericho
036 Bomet
037 Kakamega
038 Vihiga
039 Bung'oma
040 Busia
041 Siaya
042 Kisumu
043 Homa Bay
044 Migori
045 Kisii
046 Nyamira
047 Nairobi City
The Youth Congress and Youth Leagues seeks to address youth exclusion and drivers of inequalities. We envision an inclusive society in which youth enjoy all rights and apply their agency. For The Youth Congress, youth mobilisation, organisation and coordination is key to transformation, development and advancing youth courses. Most important, integrity is a requirement that is as central as is the struggle for expanded freedom, space and the Kenya We Want.
The following are what the members of The Youth Congress and its affiliate formation shall subscribe to:
I
Adherence to The Youth Congress values and vision in advancing the youth agency
II
Support the ideas of the Youth Leagues and The Youth Congress and place themselves under its overall discipline;
III
Carry out decisions, duties and resolutions with diligence;
VI
Organize, participate and contribute positively to all County Youth league and The Youth Congress activities and to contribute to the strengthening of the organic unity of the youth movement;
V
Rally youth to support and unite behind the County Youth Leagues and actively participate in the creation of a united, non-racial, de-ethicized, non-sexist, democratic and prosperous Kenya;
VI
Protect the Youth League and The Youth Congress mandate at all times by exercising maximum vigilance;
VII
Exercise discipline and exemplary behavior at all times and maintain harmonious relations with all members of the Youth League and the community in general;
VIII
Combat all forms of tribalism, regionalism, nepotism, and other forms of discrimination based on ethnicity, gender, clan and sex as well as combating factionalism and malicious gossip within our ranks;
IX
Initiate and participate in activities aimed at promoting national values, solidarity, cohesion, peace and social Justice;
X
Promote gender agenda, inclusion, equality, equity and effective distribution of authority and accountability between men and women in the youth movement.
XI
Respect to the rule of Law, the Constitution of Kenya and other related laws
XII
Subscribe to National values and principles of governance as provided for Constitution of Kenya Article 10 (2) –
(a) patriotism, national unity, sharing and devolution of power, the rule of law,
democracy and participation of the people;
(b) human dignity, equity, social justice, inclusiveness, equality, human rights,
non-discrimination and protection of the marginalised;
(c) good governance, integrity, transparency and accountability; and
(d) sustainable development.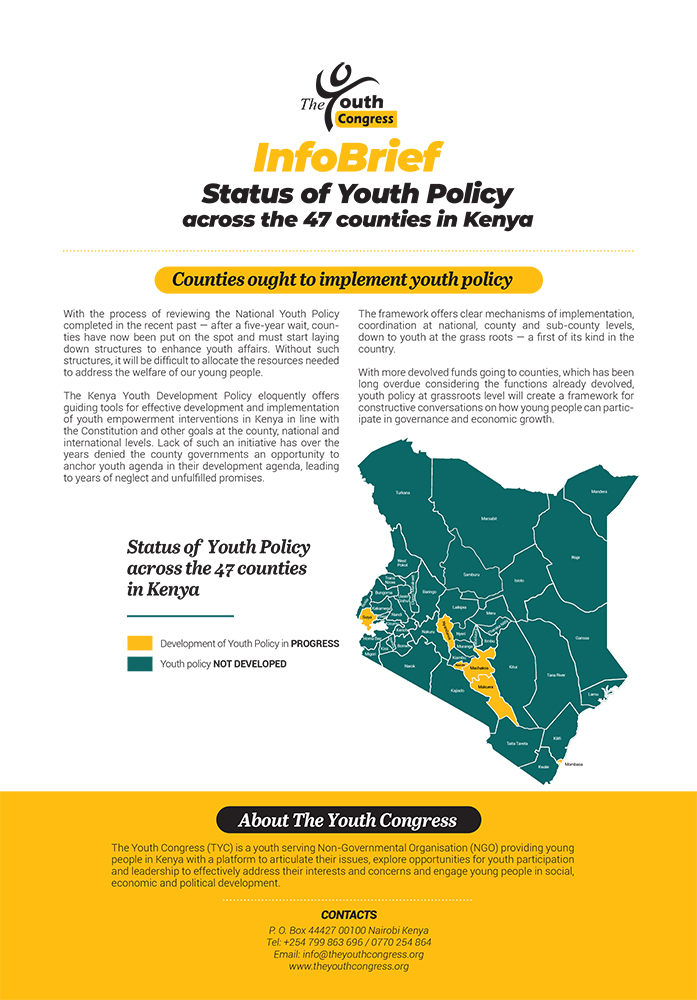 The Youth Congress Youth Leagues
Nothing can be more important than organizing if Kenyan youth want to change their condition and realize freedoms.
That is why The Youth Congress has developed this Manifesto and Manual Youth Leagues in Kenya. The expectation is that the initiative will give impetus to stronger and better youth organizing in the country.
By establishing Youth Leagues in all the 47 counties, The Youth Congress aims to build a strong youth voice and collective action that will help to improve the condition and position of Kenya's youth.
By setting clear goals and long term agendas, The Youth Congress and the 47 County Youth Leagues have taken deliberate action to lay foundation on which to tackle youth related issues in the counties and country.
As the saying goes; If you want to go fast, walk alone, but if you want to go far, walk with others.
The Youth Congress would want to go far and to make a difference thus we invite all actors to join us in our quest for expanded freedom and space for the youth.